Lakadamia
Member station
TRLK
(Television Radio of Lakadamia)
National selection events
Lakadamia Music Festival
(#01 - #02)
Internal Selection
(#03)
Appearances
First appearance
#01

Lakadamia has participated in the Fantasia Contest since the first edition.
History of Lakadamia in the contest
Edit
National Selection - Lakadamia Music Festival 01
Lakadamia, eager to get more reconnaisance from the rest of the world, with its broadcaster TRLK, the 9th August 2015, the desire to join the Fantasia Contest, held for the first time in Evergreen.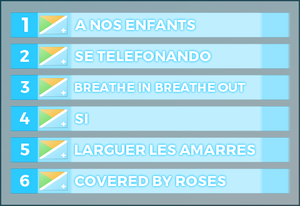 The most viewed show of Lakadamia, the Lakadamia Music Festival, was used for choosen the first Lakadamian Entry in the contest. 6 Songs, 3 in Frajisian, 2 in Engju & 1 in Ilativiano get the right to compete in the National Final.  With 82 Points, only 4 Points behind the rest of the Top 3, Zaz & her ballad Si get the right to represent Lakadamia, making her the first artist ever to represent Lakadamia, and also the first song in Frajisian present in the contest. In the contest, Lakadamia was drawn to perform on the Second Half of the Second Semi-Final, and with this, get the wildcard. The country, choose the number 18, and will perform between Áredival & Pashlanahuy. The country qualified in the Grand Final, and was drawn at the number 08, between Scandavia & Prunia. At the final results, Lakadamia managed to get the 7th place, with 145 Points, with also 12 Points from Scandavia, Assasynia & Áredival. In the Semi-Final, the country finished at the 5th place, with 89 Points.
National Selection - Lakadamia Music Festival 02
On the 14 September, Lakadamia confirmed as the first country their participation in the Fantasia Contest, even if the first edition just started. Also, TR LK, had confirmed to host a long national selection, with 24 Songs.
Contestants

Edit
Table key
Edition
Host City
Artist
Song
Language
Final
Points
Semi
Points
#01
 Crystalfall
Zaz
Si
Frajisian
07
145
05
89
#02
TBA
     First Half
     Second Half
12 Points from/to Lakadamia
Edit
     The country won Fantasia Contest / Lakadamia won Fantasia Contest
     The country finish Second in Fantasia Contest / Lakadamia finish Second in Fantasia Contest
     The country finish Third in Fantasia Contest / Lakadamia finish Third in Fantasia Contest
     The country finish Last in Fantasia Contest / Lakadamia finish Last in Fantasia Contest
     The country failed to qualify in Final / Lakadamia failed to qualify in Final
Commentators & Spokesperson
Edit
Edition
Channel
Commentators
Spokesperson
FC #01
TR LK 2 (SF)
Darian Health
Matt Britton
Claire Chazal
TR LK 1 

(GF)

Radio LK 1 

(GF)

Dan Évrard
FC #02
Active

Inactive